Trendforce released its latest research report on the global smartphone market, revealing a decline in production in the third quarter of 2022. The industry produced 289 million units in the July-September period, down 0.9% quarter-on-quarter and 11% year-on-year. "Extremely weak demand" has phone companies prioritizing drawing down inventories over launching new devices, while keeping output so low due to "strong global economic headwinds."
Samsung maintained its position as the number one manufacturer with 64.2 million devices produced, a slight increase of 3.9% from the previous quarter. The South Korean manufacturer is scaling back production to boost equipment it already produces and may report lower output after the next three months.
Apple recorded 50.8 million for a market share of 17.6%. It's also Apple's strongest period, according to TrendForce, as the company ramps up production to launch new iPhones in time for the holidays. The forecast for the fourth quarter is that one out of every four new smartphones shipped is an iPhone.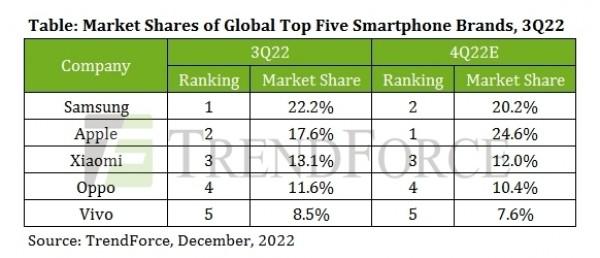 The rest of the top five is held by Xiaomi (including Redmi, Poco and Black Shark sub-brands) in third, OPPO (including Realme and OnePlus) in fourth, and vivo (plus iQOO) in fifth. Trendforce pointed out that Chinese companies are moving in the direction of reducing American technology, vivo has developed its own ISP, Xiaomi has developed its own charging chip, and Oppo has designed the MariSilicon X NPU.